SEAFOREST
Single head Electric Solar Photovoltaic Panel Cleaning Tool Water Fed Telescopic pole Brush
SEAFOREST Single head Electric Solar Photovoltaic Panel Cleaning Tool Water Fed Telescopic pole Brush


LIGHTWEIGHT DESIGN: The whole machine is about 4kg. It is free from the constraints of carrying and inconvenient operation of heavy equipment, and is lightweight, easy to carry, reduces noise, and facilitates cleaning.

DOUBLE-HEAD SCALE POWER PHOTOVOLTAIC CLEANING MACHINE: can achieve 3.5-7.5 meters long-distance cleaning photovoltaic power station; use lithium battery to drive the rotation of the brush head, the opposite rotation of the brush head is balanced, and the electric brush is rotated at high speed The frictional force of water spray at the same time strongly removes the dust and sticky dirt on the surface of the photovoltaic panel and stubber

BRUSH STYPES:we have three types about this solar cleaning brush:Standard type/Lithium battery type/Dual power supply type,we recommend Lithium batter type,because this set is equipped with a lithium battery and a backpack, which can be carried on the body for mobile cleaning, fast and efficient, suitable for most environments.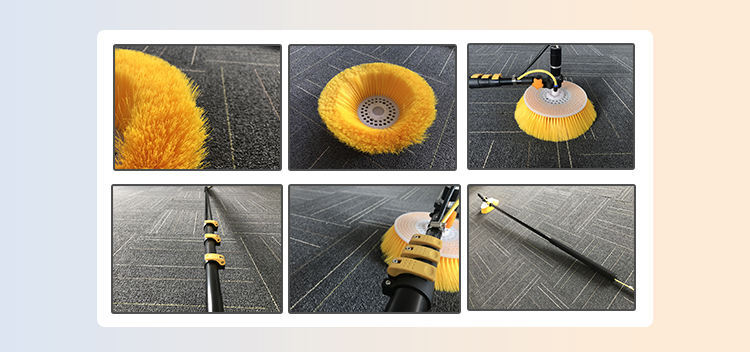 Product name

Single head Electric Solar Photovoltaic Panel Cleaning Tool Water Fed Telescopic pole Brush

Standard type

Power supply:with power converter/220v AC power supply

Water supply:60w DC water pump/Connect water source

Lithium battery type

Power supply:with two sets of lithium batteries/More than 8 hours of continuous use

Water supply:connect water source

Dual power supply type

Power supply:with two sets of lithium batteries/220v AC power supply

Water supply:60w DC water pump/Connect water source

Pole length

Four-section free telescopic rod

length:1.5-3.5/1.8-5.5/2.1-7.5 meter

material:Aluminum alloy

thickness:1 mm

Rotating motor

name:DC

Rotating speed:300r/minute

power:180w

voltage:24v

Brush head

brush head diameter:30-40 cm

life:about 1-2 years acrrording to your usage frequency

material:nylon